Cycling in Himachal Pradesh - practical information
I rode by bicycle some 750 km along valleys and passes of Himachal Pradesh, north-east India, in September 2008. This page lists "practical issues", mostly of interest for those who is considering riding the same route.
Region
I call this route "Kunzum loop", as the Kunzum pass is its highest point and there is no other easy way to ride through it than to repeat all this loop. Manali - Leh is a much better known route (just search for something like "Manali Leh bicycle" to find many bike trip reports). It is higher and a bit shorter horizontally than the "Kunzum loop". But the M-L road is much more loaded with traffic; people report riding through truck jams there, and being constantly passed by trucks. In contrast, Kunzum loop has traffic only in very beginning. After Rekong Peo, the road is very quiet, I remember riding long time a day not meeting a single vehicle.
The road is about 1/3 asphalt, 1/3 bad asphalt (i.e. slits and potholes everywhere), 1/3 gravel, sometimes big and sometimes loose. Or at least this was my subjective perception. Read below about consequences for cyclists.
Good maps are nice to have, but in this case not really necessary; a road scheme can be sufficient, as you can't get away from the only road even if you would like to. The best scheme I found at masterlyinactivity site is saved here. Learning Devanagari script helps reading names of places, which are not dubbed in Latin alphabet, although I met them only during my days 1 and 2, when riding outside of the main Kunzum track.
Weather
I dare to say that my choice of the season was a perfect match. In winter, passes (and higher parts of the road) are covered under snow and not ridable. Summer is known for the monsoon. The best fit is the autumn, when monsoons are over, but snow has not yet fallen. When I rode in the bus on my first day, September 1st, I still felt sticky air and saw fog-like clouds limiting visibility to maybe less than a kilometer, these were the last traces of the monsoon. During my first cycling day, air was already clean. Approaching

Kunzum

, I caught first snow in the season at

Lossar

. A group from Russia which started 3 weeks after me had almost real snowbiking on the tops.

I got rain only once, and that was a "not a real one", just some drops here and there. Most of time it was sunny and very, very nice. Maybe about +25 in the beginning (so that I was drinking like a camel), down to a very comfortable +5 - +10 around Kunzum (so that I weared winter gloves instead of the short ones).
Transportation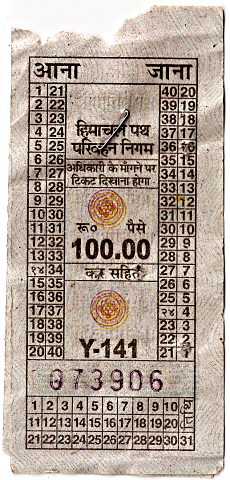 I traveled from New Delhi Indira Ghandi airport to Shimla via Chandigarh (which is the transportation center for Indian northern states). Airport-Chandigarh link can be done very conveniently with "Indo-Canadian" bus company; you bypass the city of Delhi this way. They even offer online ticket booking with credit cards. Passengers are collected in the airport right at the arrival line. Chandigarh - Shimla is served by about ten buses daily, so I did not even record down the schedule. There are also one or two daily buses Chandigarh - Recong Peo. In all buses, the bike conveniently and safely traveled on the roof rack. Indo-Canadian took it for free (but do not forget to tip the person who will carry the bicycle to the bus roof and back), local buses took official fare comparable to the ticket price.
There are regular, at least daily bus routes along all of the Kunzum loop. Sometimes looking at these buses, driving in minuscule distance from the edge of the precipice, I felt happy that I'm not inside. Keep in mind that the mountain kilometers are covered much slower than kilometers on the highways. My bus rode 120 km from Chandigarh to Shimla for about 6 hours, Chandigarh - Recong Peo takes 14 hours - and that is when the road is not blocked with landslides. I witnessed three landslides during the course of my trip; the one before Recong Peo was the largest.
Planning everything from home, I was worried about transportation with the bicycle, as there are many countries where bikes are not accepted here and there. But in India it turned out to be absolutely trouble-free.
Accomodation and food
Places to sleep were present in all larger settlements along the road. You do not need a tent unless you plan diverging away from the beaten tourist track. I recommend taking a light sleeping bag if you are used to clean bed sheets in hotels; in smaller places like Chango, Lossar and Chattru, such luxury is not available. I had an ultra-light tent and used it just twice - first time when I had still 20km to my next destination after the sunset, second time when I preferred to sleep outside just because it felt better.
In Kinnaur, guesthouses are very frequent, while even smallest places for tent scarse. I do not think there are areas prohibited for pitching of the tent as it is in many parts of the USA, but every smallest flat spot is used for planting or herding of the cattle. I made once a planning mistake and got caught by the nightfalls with 20 km to the nearest village; riding in the darkness was not an option. I ended up pitching the tent on the wider side of the small road; quite troublesome to think through the sleep about being ridden over by a truck... but they for sure drive slowly. Nobody ran over me that time.
In Spiti and Lahaul, the valley is wider and flatter, so nice camping spots can be picked quite often.
A definite guide to the local food is available at the Out-there-biking tour operator page. I found the local eating style perfectly suitable for a cyclotourist. It is difficult to find meat, but I was not missing it during all my stay in India - on the contrary, enjoying the vegetarian approach. Practically every time, I was quite hungry and happy with just anything served. Learning several words for dish names is something which could facilitate the communication; after couple of the first days I asked for "

thali

", "

chowmein

" and "

thukpa

" very confidently.

There are no long distances with nothing to buy. The least populated part of the Kunzum loop is the Kaza - Chattru segment, but even there I did not carry more than couple of bananas and a pack or two of bisquits.

Running water was available almost everywhere, I carried one 1.5l water bottle and that was enough, but it is said everywhere that the stream water is not safe to drink. I always put water disinfection tablets in my bottle and had no stomach problems. In fact I started to try carefully water served in dhabas - I have no idea if, or how, it is treated. Never took inside too much of it though. Bottled water is sold at most points where anything is sold; but please avoid bying too much plastic. I have not seen any recycling facilities during all my route, and was quite sad to see even the highest mountain roads being dumped with horrible grayish plastic waste.
Technics
I carried full sleeping set (commented above) but no cooking equipment, and was quite happy with this. Cooking is definitely not needed unless again you venture for more than a daytrip aside from the main road - which may be a great experience which I did not take this time.
My bicycle was a regular front-suspension MTB. In my opinion, a good suspension fork fully justified its extra kilogram of weight, I'm recommending this to anybody. Good suspension makes ride on uneven roads much safer; for example I could descend from Kunzum at maybe 15km/h over big loose gravel, while others report riding at walking speed. Be sure to have low enough gears; just imagine several factors acting at once, steep ascent + bad pavement + high altitude + weight of the gear + riding full day. I rode quite some distance on my granny ring, while I consider myself reasonably fit. My recommendation for tires is: something sturdy touring to the rear, something sturdy "downhill" knobby to the front. I did not have the former ready at home and decided to save money reusing a light racing knobby; this saving almost ended up my trip in its middle! but as it did not, I'm not describing this stupidity of mine here in more detail. There are no places to buy anything for the bike on the route, so be prepared to fix any technical fault - or quit the game and take the bus.
Technically the road is not especially challenging, but still I dare to make such a recommendation: if you have questions like "what do I need to take into my bike repair set" - do not take this route, practice first something shorter and gain necessary experience so that questions like this are no questions any more.
Sunglasses with strong protection level and the strongest sunblock cream are an absolute must in high altitudes. Do not even think leaving without these two items unless you already know well why you do not need them.
Altogether my luggage fit in under 10kg: under 3 kg for the sleeping set, 3 kg for the clothes, 2 kg for medicine, hygiene and bike repair boxes and 2 kg for various other precious things like the weight of panniers themselves.
Konstantin Shemyak
(
konstantin@shemyak.com
) /
Cycling
/
Indian Himalayas - 2008
/ Practical information