Disassembling Truvativ GXP crankset
My crankset developed creaking sounds. It's Truvativ Elita Cross with GXP axle. Manuals at ParkTool say that only 8mm Allen key is required to remove the left side crankarm. It's fixing bolt unscrews counter-clockwise:
But after the bolt is removed, the crank is still press-fit. It is not possible to just pull it off:
I was stuck at that point, not knowing what to do next. The solution which did the work was to insert the bottom bracket cup removal tool under the crank. Fortunately I had a half-circle wrench, the "full circle" would not have fit over the crank arm! The unscrewing cup worked as a crank puller, effectively removing the left arm from the splined axle.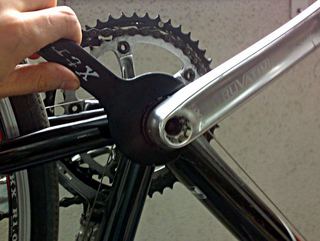 When the left arm is removed, the work is done: right arm comes off.
I'd say that the claim about "no special tools required for GXP crank removal" is overstated, because the cups still need a wrench with a long lever. But it is still better then other designs such as Shimano Hollowtech and later Sram/Truvativ models, which, in addition to the cup tool, need a specific left arm extractor or tightener.
Konstantin Shemyak
(
konstantin@shemyak.com
) /
Bicycling
/ Disassembling Truvativ GXP crankset